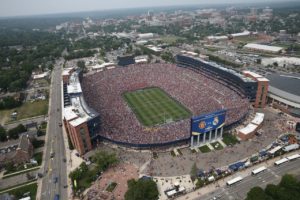 Despite only being a preseason friendly, Manchester United's match against Real Madrid at Michigan Stadium drew a sell-out crowd of 109,318 — a new record for a soccer match in the United States. The previous record of 101,799 was set by the 1984 Olympic gold-medal match between France and Brazil at the Rose Bowl in Pasadena, California.
The massive crowd at Michigan Stadium gave the match between two of the world's biggest clubs a much more lively atmosphere than these teams usually find on their preseason tours. And with tickets ranging from $45 to $189, fans paid a hefty price for the privilege to make history and watch the likes of Wayne Rooney and Gareth Bale ease their way into the new season.
The previous record for a club match in the U.S. was set by a 2009 friendly between Barcelona and the L.A. Galaxy at the Rose Bowl, which drew 93,137 to edge out a 2006 MLS match between Chivas USA and the New England Revolution attended by 92,516 at the Los Angeles Memorial Coliseum.
The Big House also set the attendance record for a hockey match when it hosted 105,491 for the NHL Winter Classic between the Toronto Maple Leafs and Detroit Red Wings on January 1 of this year. The stadium's record for an American football game was set by Michigan's 41-30 win over Notre Dame last year, which had an attendance of 115,109.
Cristiano Ronaldo did not start against his former club as he continues to work his way back from the knee injury that troubled him during the World Cup in Brazil, but he did enter the match midway through the second half after getting big cheers every time he was shown on the stadium's big screen.
Man United's Ashley Young opened the scoring in the 21st minute, but Gareth Bale equalized from the penalty spot just six minutes later. Young then put Man United up 2-1 in the 37th minute and Chicharito made it 3-1 in the 80th minute, which ended up being the final score. But, again, this was only a friendly.
Read the original article here.