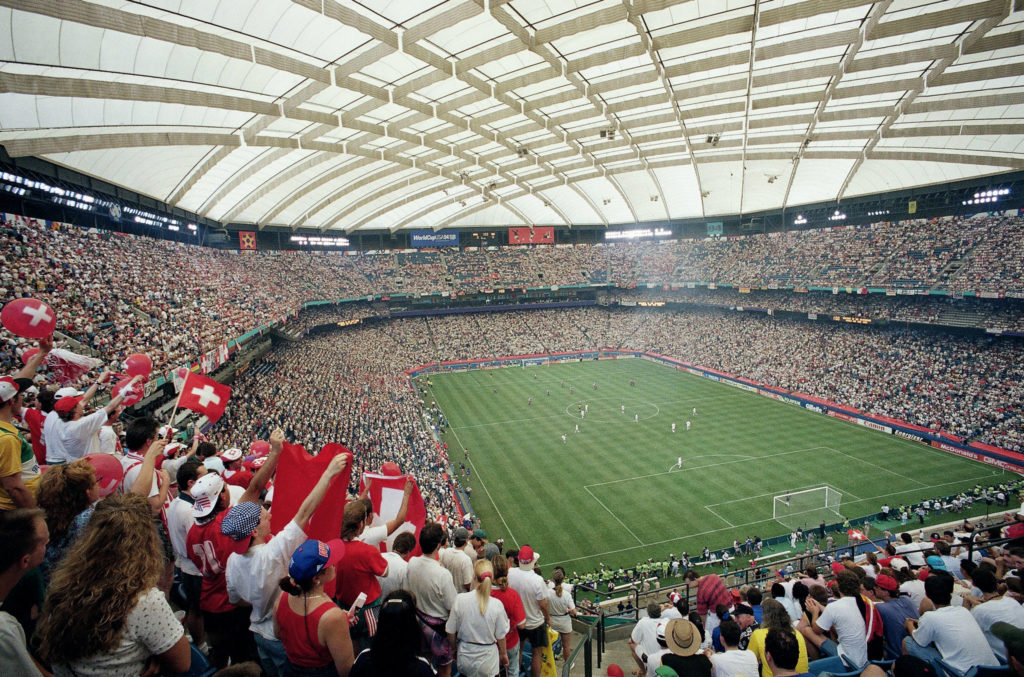 FIFA doesn't want to talk about installing grass for next summer's Women's World Cup in Canada. The Canadian Soccer Association doesn't want to talk about it, either.
Trey Rogers? He's happy to talk about it.
Rogers, a professor of turf grass management at Michigan State University, was the scientist in charge of the installation of real grass over the fake version inside the Pontiac Silverdome for the 1994 men's World Cup, when FIFA required that the playing surface there be changed to grass. He and his team spent more than a year and a half figuring out how to keep grass alive inside a domed stadium for a month.
"When we first started, I stayed awake two nights thinking about it because we didn't have anywhere close to the answers," Rogers said.
Twenty years later, the prospect of turning six artificial turf fields into grass ones for the Women's World Cup — a tournament to be played mostly in open-air stadiums — seems to be an impossible task. Maybe that explains the silence of FIFA and the Canadian Soccer Association. They have not responded to a letter from a group of top players threatening legal action, which is expected to begin shortly, or to social media pleas from top players like Abby Wambach and Hope Solo and supporters like Kobe Bryant and Kevin Durant. This week, they also declined a chance to discuss the matter with me.
To Rogers, though, turning Canada's artificial turf fields into grass ones is a no-brainer, considering his team left behind the blueprints for the job. "I know for a fact that it would work," he said. "But it comes down to, 'Do they want to do it?' "
He added — and this, I think, is the whole point of this debate — "If there's a will, there's a way; if there's enough money, it can be done."
So let's talk money.
Rogers said FIFA spent about $2 million on the Silverdome project in 1994 and didn't blink an eye. These days, according to several turf grass experts, converting each artificial turf field to grass for next year's Women's World Cup would cost anywhere from $150,000 to $400,000 per field, depending on where the sod is harvested.
In fact, it's really not that big a job anymore. Steve Bush's company, Bush Turf, needed less than 72 hours this month to lay grass over the artificial turf at Michigan Stadium for a friendly between Manchester United and Real Madrid.
The sod arrived in Michigan in a refrigerated truck from a farm in New Jersey, and Bush covered the artificial turf with a landscape fabric before bringing in thickly cut sod and installing it.
"You just unroll it onto the field," he said.
The promoter of the game footed the bill. But why pay anywhere from $150,000 to $250,000 to install grass for just one game — again, a preseason friendly — that will be over in 90 minutes? Because the men coming to play on it demanded it.
"Anytime premier teams play in the United States, they won't play on artificial turf," Bush said. "They're very picky, so this type of thing, going from turf to grass in a short period of time, happens all the time, all over the country." 
(One other example, of many: a company also laid grass at Edward Jones Field in St. Louis in May for a pre-World Cup friendly between Ivory Coast and Bosnia and Herzegovina.)
So the men are picky, but the women should just take what they are given, and like it? FIFA should know better.
Here's how it could fix its growing public-relations disaster: It could dig into its deep pockets, which are lined with $2 billion in profits from this year's World Cup in Brazil, and find the million or two it would cost to install grass fields for next summer. That would amount to shaking a few nickels and dimes loose in order to stage a proper championship for the women.
It would also spare FIFA and Women's World Cup officials the public embarrassment of being ordered to do so by a Canadian court, which the players' lawyers say is likely. And there is still plenty of time.
So FIFA should call Trey Rogers. He said the process would be laughably easy now, considering it was pioneered two decades ago.
Or call Steve Bush. He does this for a living, and said changing six fields to grass "would be no problem."
Or call me. I'd be happy to provide phone numbers for both of them.
But please call someone.
Everyone is waiting for you to join the conversation.
Read the original article here.